The following is an excerpt of All About Trends Premium newsletter, sent every day. If you would like to sign up for a free 15 day trial
click here
(no credit card required)
.
_________
Let's Talk About Those B

IOS!!
When one looks at the current trend off the November lows a few things stand out

-- n

amely the pullbacks

in terms of t

he duration, the depth and the percentages they've pulled back.
Take a look at the daily charts below of the NASDAQ Comp and the SPX.

T

hey pretty much tell the story within the current trend.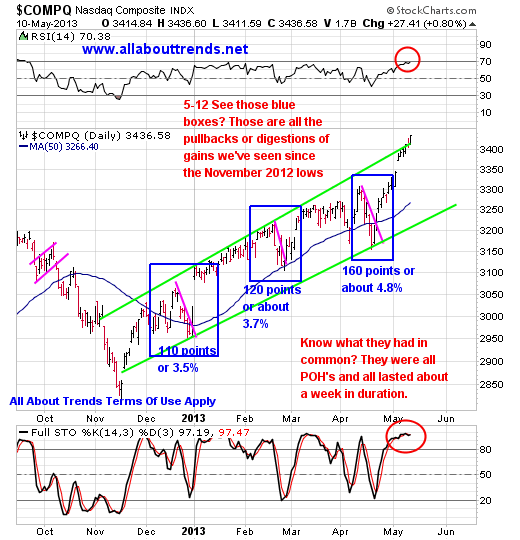 So you see?

O

verall within the current trend any sell off ought to be a welcome sign for using to get long on.
When

we

look thr

ough

let's say the names in our newsletter this weekend

and

look at the February thr

ough

March pullback in the indexes

we

noticed the bios for the most part took the lead higher opposite the markets while other names quietly consolidated and yes even some names bit the dust really hard. The thought that comes to mind overall with regards to individual issues is?
"It's A Market Of Stocks" with something for everyone long and short alike. Which is also another way of saying money stays in the markets but rotates around. Think out of these and into those.
That said, those names that have r

u

n the most could easily lag at the least or go into a correction in the next pullback with some other yet to be defined theme moving higher to pick up the slack. After all look at DDD and SSYS in the February through March pullback

. T

hose two names were all the rage and then? POW to the downside. While at the same time the bios did the opposite -- they took off and asserted a form of leadership.
Our game plan is to see how the market opens next week after the opening dust settles and take things one step at a time. We do like the recent action in the bios last week, what we didn't like is the amount of point moves most made in the blink of an eye

on Friday

. A day or two of backtesting or pulling back would be fine by us for potential going long purposes.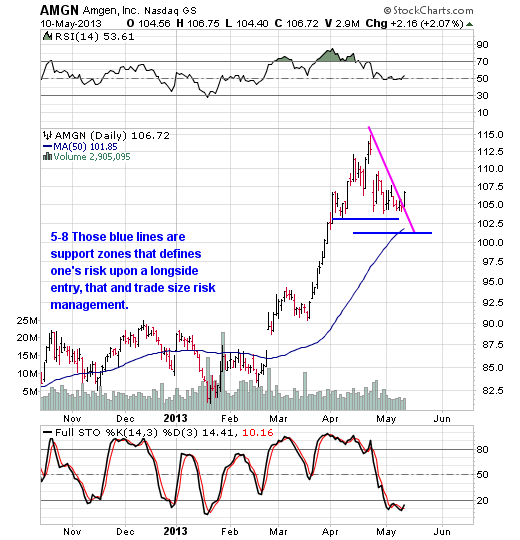 From a trade what you see perspective? We see an issue that is in a clearly defined uptrend pulling back off highs above the 50 day average plain and simple. THAT is the main reason we issued a Trade Trigger email alert to our paying subscribers last week -- both a s

tock trade and an options trade

. So far so go

od on both!
And...we've added 3 other bio stocks to the watch list for our paying subscribers -- we just need to see them continue to pull back to a low risk bu

y point like AMGN did and then we'll likely issue trade alerts on them as well.
DON'T MISS OUT AND READ ABOUT OUR GAINS IN THESE STOCKS AFTER THE FAC

T!!